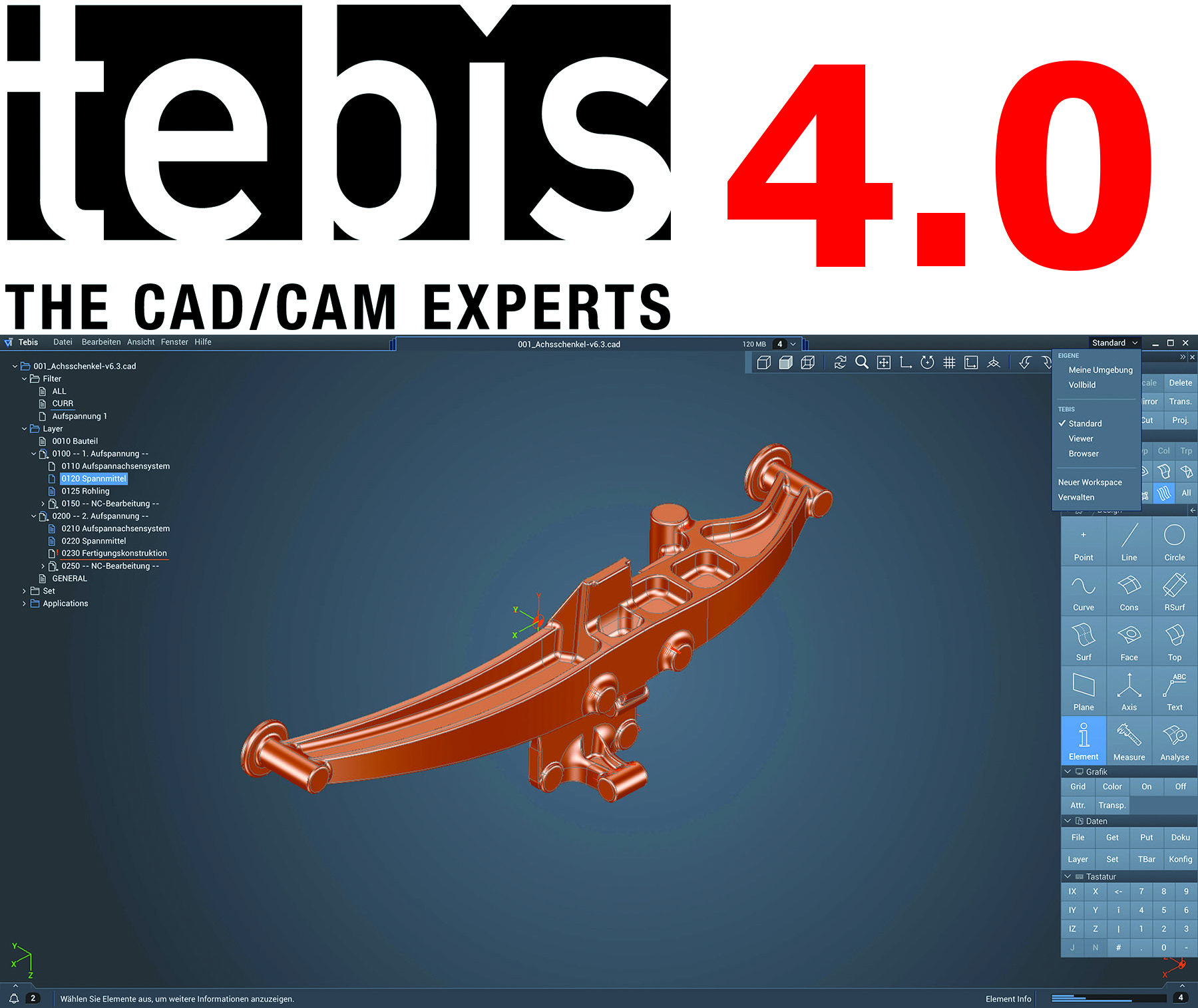 Tebis is a CAD/CAM software solution for applications such as die, mold or model making. The software is primarily used in the generation of toolpaths for chip-breaking manufacturing such as drilling and milling, but also in Wire EDM and Electrode EDM. These toolpaths control multi-axis CNC machines. Other applications include manufacturing planning, design, reverse engineering, quality assurance, CNC machining and assembly. The software features interfaces for neutral file formats as well as proprietary formats of third-party manufacturers (STEP 203/214, VDAFS, IGES, DXF, STL, Parasolid, Catia V4/V5, Creo, SolidWorks, NX, JT).
The new release features a new visual design, intuitive access to the functions through self-explanatory icons and more feedback for the operator all without sacrificing tried and proven features.
The user interface features color blending of modern colors as well as an updated typography that characterize the interface's appearance. The familiar Tebis blue will continue to be used in the future to highlight the selected functions. The dark color scheme used for the display is designed to optimize daily work on the monitor, be easy on the eyes, and facilitate individuals' work, thanks to improved contrasts.
AutoFormplus R3 – Outstanding Accuracy and Speed
AutoForm offers software solutions for the die-making and sheet metal forming industries. The use of AutoForm software improves reliability in planning, reduces the number of die tryouts and tryout time, and results in higher quality part and tool designs that can be produced with maximum confidence. In addition, press downtime and reject rates in production are substantially reduced.
Based on practical, industrial know-how and sheet metal forming expertise, AutoForm's solutions form a complete, integrated system with highly specialized functions to analyze, review and optimize every phase of the process chain.
AutoForm provides solutions all along the sheet metal forming process chain. They range from stand-alone modules for small and mid-size companies to complete, integrated multi-module systems for large companies.
The new release of Version 3.5 is available. We have optimized, expanded, and of course fine-tuned yet again. Compare CAD files without prior loading, or create blanks by layering material. Stay up-to-date and output data in the universal STEP format, or automate deep-hole drilling. Deform complex parts with the click of a button. The most important enhancements of our new Release 3 are summarized here. You can see the in the details!