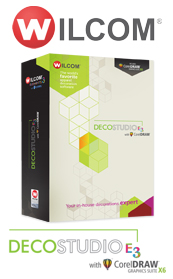 Embroidery, DTG printing, rhinestone designs and more
Easy graphics-to-stitch conversion
Over 150 alphabets for lettering and monograms
All-in-one solution with intuitive workspace
Whether you're adding embroidery to a range of apparel or starting an embroidery business, DecoStudio® e3 is the perfect place to set your anchor stitch. Corel® and Wilcom® proudly partner to bring you a graphics and embroidery software solution that draws on the strengths of both companies. Take advantage of leading embroidery digitizing software from Wilcom, combined with powerful CorelDRAW® Graphics Suite X6, to bring your designs to life!
Turn your vector artwork into:
Embroidery
Appliqué
Screen printing or direct to garment (DTG) printing
Rhinestones
Multi-decoration designs
DecoStudio e3 is perfect for the following industries:
Fashion
Promotional products
Sports and work apparel
T-shirt design
Personalized gifts
Embroidery graphics software for print, apparel and appliqué designs
Wilcom® DecoStudio® e2 brings your embroidery designs to life. From vector to embroidery, the stitch engine of Wilcom, combined with the graphic design software of CorelDRAW® X5, helps you create embroidery, print and appliqué designs, fashion apparel, and now rhinestones, with ease! You'll quickly find DecoStudio e2 to be indispensible graphics and embroidery software.