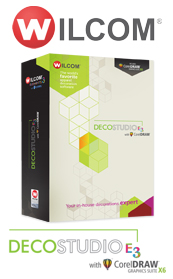 Embroidery, DTG printing, rhinestone designs and more
Easy graphics-to-stitch conversion
Over 150 alphabets for lettering and monograms
All-in-one solution with intuitive workspace
Whether you're adding embroidery to a range of apparel or starting an embroidery business, DecoStudio® e3 is the perfect place to set your anchor stitch. Corel® and Wilcom® proudly partner to bring you a graphics and embroidery software solution that draws on the strengths of both companies. Take advantage of leading embroidery digitizing software from Wilcom, combined with powerful CorelDRAW® Graphics Suite X6, to bring your designs to life!
Turn your vector artwork into:
Embroidery
Appliqué
Screen printing or direct to garment (DTG) printing
Rhinestones
Multi-decoration designs
DecoStudio e3 is perfect for the following industries:
Fashion
Promotional products
Sports and work apparel
T-shirt design
Personalized gifts
Wilcom DecoStudio e3 brings your creations to life. The magic behind the scenes means you don't have to be an expert to create stunning designs that print and stitch flawlessly. If you're in the apparel, signage or promotional products industry, DecoStudio e3 is your in-house expert. With Wilcom's stitch engine and CorelDRAW® X6 combined, you can take vector artwork and turn it into embroidery, print, applique and now rhinestones with ease.
Create dazzling rhinestone shapes, runs and patterns. Software intelligence removes overlaps, converts vector shapes to bling automatically.
Streamline production by visualizing the design within your chosen hoop. Auto Hoop it! will even choose the most suitable hoop for you!
Over 50 product templates included to visualise your design on the garment. Save valuable time and frustration by providing professional Approval PDFs to your customers.
No need to purchase seperately, CorelDRAW® Graphics Suite X6, the complete graphic suite offering powerful graphic illustration, is a fully integrated.
No need to exit the software to swap from inches to millimetres!
Some like the Mouse Wheel to scroll down the screen, some prefer it to zoom in. You choose what works for you!
DecoStudio now includes the Manual and Automatic Knife tool for cutting embroidered shapes into seperate pieces.
Automatically applies underlay, pull compensation and stitch density settings based on your chosen fabric. Use best-practice default settings or apply your own combinations.
Wilcom's unrivalled stitch processing technology ensures you get the best quality embroidery results and efficient sewing time, every time.
DecoStudio provides you with true object-based editing to refine converted embroidery files as needed. You can also do your own simple digitizing where required.
With the Monogram Wizard you can quickly and easily create uniqe monograms with motifs and borders. Applique is a cinch with tack down, base and finishing stitches automatically created.
In one click, DecoStudio converts any vector shape into production ready embroidery, applique or bling designs. You're then free to edit and enhance as desired.
Wilcom is famous for quality lettering. Use any of the 140 pre-digitised fonts for speed, precision and no thread breaks! You can also convert any True Type fonts with ease.