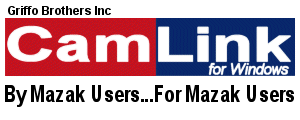 As the World's Most Complete Offline Solution for Mazatrol, CamLink for Windows is uniquely suited to small and large shop environments.

ICAM Technologies Corporation introduces Control EmulatorTM (CE), a new software product allowing NC programmers to simulate and test NC programs using Machine Code Data (MCD) within the CATIA V5 / DELMIA environment.
Embroidery graphics software for print, apparel and appliqué designs
Wilcom® DecoStudio® e2 brings your embroidery designs to life. From vector to embroidery, the stitch engine of Wilcom, combined with the graphic design software of CorelDRAW® X5, helps you create embroidery, print and appliqué designs, fashion apparel, and now rhinestones, with ease! You'll quickly find DecoStudio e2 to be indispensible graphics and embroidery software.