Domino, management application software, born from an Elitron research, coordinates all data – such as item , quantity, shapes, materials, sizes – and manages job ticket processing, organizes the activity of one or more cutting units, optimizing production and materials performance. It can be interfaced with the management system and the optimal Domino use takes place both for installations on machine board and off-board.
PC-DMIS is the world's most popular CMM software for the collection, evaluation, management and presentation of manufacturing data. The standard on Hexagon Metrology measurement devices PC-DMIS is also available on a wide range of non-Hexagon equipment. Use it to fully leverage your manufacturing process and build truly lean systems.
PC-DMIS is the world's leading measurement software, with over 60 000 seats in place worldwide. Its powerful capabilities enable users to measure everything from simple prismatic parts to the most complex aerospace and automotive components. PC-DMIS leads the way in revolutionizing measurement, pioneering technologies such as:
Use of CAD models in the inspection process
Directly linking CAD systems and measurement software through its Direct CAD Interface (DCI) technology
Implementing a full set of sheet metal measurement routines tailored for the automotive industry
Digitally simulating measurement in an offline virtual CMM environment
Easily aligning complex contoured parts using breakthrough iterative alignment technology
PC-DMIS is standard equipment on all Hexagon Manufacturing Intelligence measurement devices and is also available as a retrofit package for most other measurement equipment manufacturers, allowing users of non-Hexagon equipment to take advantage of PC-DMIS technology. PC-DMIS comes in three basic configurations, Pro, CAD and CAD++, with optional modules available to fine-tune for specific needs. It is also available in an offline version for virtual programming.
ArtCAM Pro is a unique software program that lets you produce high quality free-form 3D products from conceptual sketches or pictures faster than you ever thought possible…
---
The advanced 3D modeling tools and flexible machining strategies in ArtCAM Pro provide the complete solution for all your CNC needs. ArtCAM Pro is a proven solution for many industries including Sign Making, Woodworking, 3D Engraving and Mold Making, Mold Tool Engraving, Coinage, Packaging…
A dream-come true technlogy, Embroidery i2 for CorelDRAW®, is a software plug in for CorelDRAW®that creates embroidery inside the graphics program. No need for a separate embroidery software application, no need to learn any new programs or interfaces.
Create logos, artwork or designs in CorelDRAW®, and when you are ready to convert to embroidery, simply assign a stitch effect, adjust any embroidery parameters such as density, pull compensation etc, and the design is ready for the embroidery machine. This is not autodigitizing- or some hocus pocus- although it seems to work like magic. Embroidery i2 is professional embroidery design creation software that is perfect for screen and digital printers, promotional product companies and those who want to create amazing embroidery.
Embroidery i2 offers a short learning curve, so you're ready to embroider sooner. And, you don't have to struggle with independant software packages or be bothered by vector compatibility issues. You're always working inside the CorelDRAW® enviroment you know and love!
We are pleased to enclose a new release of our software suite, Version 25, with the new features and improvements summarised below. Some of the items described here were pre-released as Version 24.1, optionally downloaded from our website.
Thermoflow Suite 25 (TFLOW25) released. Some highlights follow.
Multi-Point Design is a new tool in the MACRO to help manage creating a single GT MASTER model from a collection of GT PRO designs.
GT MASTER models can be directly imported into THERMOFLEX to produce an equivalent off-design model in that program which allows enhanced modeling flexibility.
GT PRO and GT MASTER now include hybrid thermal-electric desalination systems. Models for MED+RO and MSF+RO were added to the existing thermal-only and electric-only options that were already available.
STEAM PRO, and STEAM MASTER now include desalination models akin to the five different setups available in GTP/GTM. MED, MSF, RO, MED+RO, and MSF+RO are all included.
A new 'Commentary' text ouput report is included in GT PRO. Current values for key design parameters are listed along with typical ranges for each to make plant designers aware of any potentially unusual inputs.
THERMOFLEX now includes a Smoke Tube Evaporator icon, exhaust-driven and direct fired absorption chiller icons, a thermally-stratified storage tank icon, a liquid storage tank icon, and a Ruths steam accumulator icon.
THERMOFLEX's flowsheet graphic editing features were improved to make it easier to edit the drawing. Icons can now be disconnected from streams without losing the stream definition. Tagged connections may now be preserved when connected icons are deleted.
PEACE cost estimation for small plant (sub 25 MWe range) was improved in GTP/GTM and STP/STM.
Gas turbine and reciprocating engine libraries were expanded to include additional engine specs and revisions to existing specs.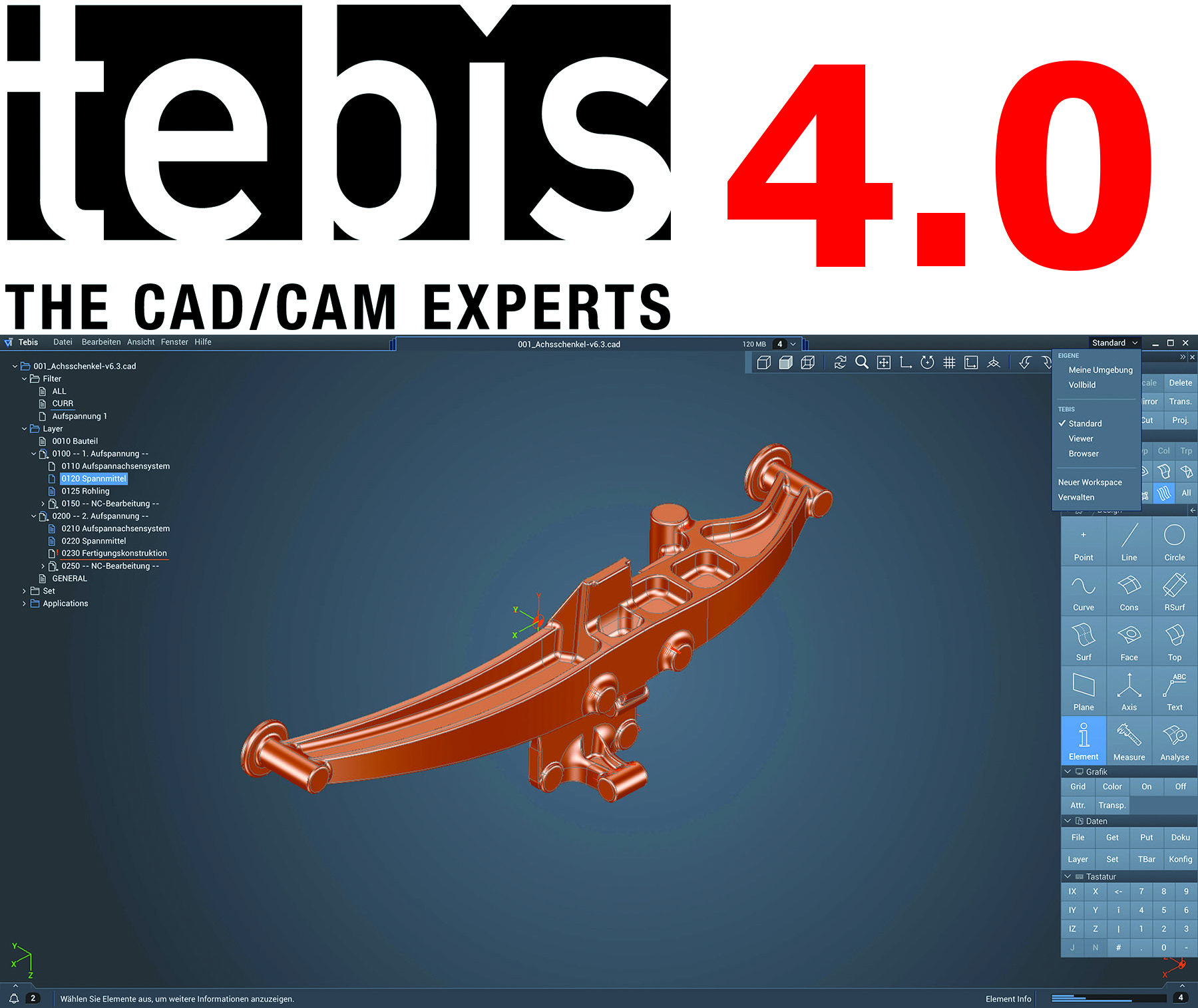 Tebis is a CAD/CAM software solution for applications such as die, mold or model making. The software is primarily used in the generation of toolpaths for chip-breaking manufacturing such as drilling and milling, but also in Wire EDM and Electrode EDM. These toolpaths control multi-axis CNC machines. Other applications include manufacturing planning, design, reverse engineering, quality assurance, CNC machining and assembly. The software features interfaces for neutral file formats as well as proprietary formats of third-party manufacturers (STEP 203/214, VDAFS, IGES, DXF, STL, Parasolid, Catia V4/V5, Creo, SolidWorks, NX, JT).
The new release features a new visual design, intuitive access to the functions through self-explanatory icons and more feedback for the operator all without sacrificing tried and proven features.
The user interface features color blending of modern colors as well as an updated typography that characterize the interface's appearance. The familiar Tebis blue will continue to be used in the future to highlight the selected functions. The dark color scheme used for the display is designed to optimize daily work on the monitor, be easy on the eyes, and facilitate individuals' work, thanks to improved contrasts.
WellView® is a complete well information management system for well planning, drilling, completion, testing, and workovers. This single comprehensive drilling and well information database reduces duplicate data entry, improves data quality, and creates a collaborative information environment.
WellView is a complete corporate well file. From well planning to abandonment, WellView tracks all changes and operations throughout the well's lifecycle. With its powerful schematics, reports, and analysis tools, WellView puts information in the hands of the people who need it most.
Working with Peloton's MasterView, WellView is part of an integrated well lifecycle analysis and visualization solution.
Build and analyze integrated, quantitative, multi-disciplinary 3D earth models with the power of 3D-GIS. From data import to exploration drillhole design, geoscientists from all disciplines can manage their project from one central software application.
Advanced, easy-to-use, modularized software that becomes the basis of sound and rapid decision-making. Custom designed for mineral exploration, resource evaluation, and geotechnical hazard assessment. It has a fully integrated 3D-GIS query environment and advanced visualization. It enables precise geological modelling (wireframe), block modelling, and property modelling. It provides natural connections to geologically-constrained geophysical modelling and inversion, multi-disciplinary 3D exploration targeting, exploratory and geochemical data analysis, and geotechnical hazard estimation and monitoring.
There are two types of heat balance programs: "Application-Specific" and "Fully-Flexible".  An Application-Specific program is a special-purpose tool, focusing exclusively on one type of plant.  The program includes a vast, general model and the user selects a subset of it via a guided, structured procedure.  A Fully-Flexible program is a general-purpose tool, which allows its user to construct any model by connecting appropriate building blocks, in a flexible, unfettered fashion.  Each type of program has advantages and limitations.
Knowledge = Power
Thermoflow is the leading developer of thermal engineering software for the power and cogeneration industries.  Since 1987, Thermoflow's software product line has grown to become the most popular, well-proven, and comprehensive system available today.
Thermoflow is a stable, profitable, entirely independent company which has never received funding from any source other than sales to customers who find real value in our products, every day.