Machine-Independent Embroidery Software
More than 70 embroidery file formats and 20 home and industrial machine brands supported. Embroidery designs digitizing, editing, management, lettering and more!
There are two types of heat balance programs: "Application-Specific" and "Fully-Flexible".  An Application-Specific program is a special-purpose tool, focusing exclusively on one type of plant.  The program includes a vast, general model and the user selects a subset of it via a guided, structured procedure.  A Fully-Flexible program is a general-purpose tool, which allows its user to construct any model by connecting appropriate building blocks, in a flexible, unfettered fashion.  Each type of program has advantages and limitations.
The KLT TERRAIN program can process DTMs with hundreds of millions of data points.  It is used for:
Displaying correlated or LIDAR digital surface models (DSMs)
Interpolating gridded DTMs and contours from huge point datasets
Cutting and sorting DTM files into new sheets
Extracting DSMs from aerial imagery by correlation
Classifying DSMs
Displaying point datasets in 3D perspective or profile views
Generating LIDAR stereograms for stereo handling of point datasets
WinATLAS/DSP, or Digital StereoPlotter, is a full-featured, Windows-based, SoftCopy Photogrammetric Workstation built around our WinATLAS 3D map data collection and editing package. The software uses multi-threaded code to take advantage of today's multi-processor CPUs.  It runs on standard, commercially available PC workstations under Windows XP, Windows 7 and Windows 8, but requires a stereo-ready multi-GPU graphics card like one of the NVIDIA® Quadro series.

Our TIN option is fully integrated with our WinATLAS and WinATLAS/DSP products to give you interactive contour generation inside our standard map data collection & editing software for analog, analytical and softcopy stereoplotters.
WinATLAS is our standard tool for digitizing and editing map data.  It forms the basis for our softcopy stereoplotter WinATLAS/DSP, and it supports online input from most analog and analytical stereoplotters, as well as a variety of digitizing tablets.  The program provides multiple ways to access the different collection modes and editors.  This makes it straightforward and intuitive for new users, and fast for experienced users.  It was designed as a double precision 3D tool for the making of maps.  It works in UTM, State Plane or assumed coordinates, and with either English or Metric units.  It is constantly evolving to take advantage of innovations in computer and imaging technology, as well as adding features needed by our clients to meet the needs of their clients.  And yet with all the evolution of technology you can stilll load and update files that were archived thirty years ago as if they were just saved yesterday.
With more than 40.000 installations and 25 years experience of the world market,
PEPS is one of the worlds leading CAD/CAM-systems.
In co-operation with leading CNC-machine tool and CNC-control manufacturers, the
system is continuously under development. Besides system development, consulting,
system adaption, training and support we also offer network- and DNC-installations
and customized solutions.
Continue reading →

Modular CAD/CAM software with 2D and 3D CAD as well as extensive functions for scheduling and monitoring manufacturing processes
Modern sheet metal processing without high-performance software is unimaginable these days. BySoft 7 offers a comprehensive range of functions and is still easy to operate. With BySoft 7, the user can quickly and easily design tailored parts and create cutting plans and bending programs with the push of a button. Furthermore, manufacturing processes are scheduled and monitored efficiently, thus maintaining an overview and finishing jobs quickly and economically.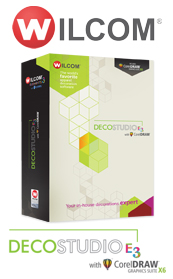 Embroidery, DTG printing, rhinestone designs and more
Easy graphics-to-stitch conversion
Over 150 alphabets for lettering and monograms
All-in-one solution with intuitive workspace
Whether you're adding embroidery to a range of apparel or starting an embroidery business, DecoStudio® e3 is the perfect place to set your anchor stitch. Corel® and Wilcom® proudly partner to bring you a graphics and embroidery software solution that draws on the strengths of both companies. Take advantage of leading embroidery digitizing software from Wilcom, combined with powerful CorelDRAW® Graphics Suite X6, to bring your designs to life!
Turn your vector artwork into:
Embroidery
Appliqué
Screen printing or direct to garment (DTG) printing
Rhinestones
Multi-decoration designs
DecoStudio e3 is perfect for the following industries:
Fashion
Promotional products
Sports and work apparel
T-shirt design
Personalized gifts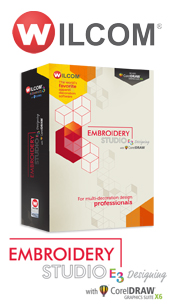 Wilcom Elements 3 - Wilcom and Corel are pleased to announce our latest product suite Wilcom Elements 3. It's a whole eco system of products to mix and match to suit your business.
It's faster, more intuitive to use, packed with new features and includes some powerful new algorithms for even greater stitch quality and graphics to stitch conversion.
Wilcom Elements 3 is our strongest release yet, with significant improvements in usability, quality as well as new creative and productivity based features. The new modular product models provide flexible and affordable options for all decorated apparel businesses.