Machine-Independent Embroidery Software
More than 70 embroidery file formats and 20 home and industrial machine brands supported. Embroidery designs digitizing, editing, management, lettering and more!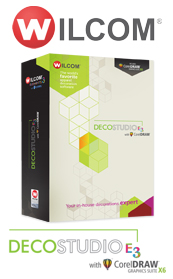 Embroidery, DTG printing, rhinestone designs and more
Easy graphics-to-stitch conversion
Over 150 alphabets for lettering and monograms
All-in-one solution with intuitive workspace
Whether you're adding embroidery to a range of apparel or starting an embroidery business, DecoStudio® e3 is the perfect place to set your anchor stitch. Corel® and Wilcom® proudly partner to bring you a graphics and embroidery software solution that draws on the strengths of both companies. Take advantage of leading embroidery digitizing software from Wilcom, combined with powerful CorelDRAW® Graphics Suite X6, to bring your designs to life!
Turn your vector artwork into:
Embroidery
Appliqué
Screen printing or direct to garment (DTG) printing
Rhinestones
Multi-decoration designs
DecoStudio e3 is perfect for the following industries:
Fashion
Promotional products
Sports and work apparel
T-shirt design
Personalized gifts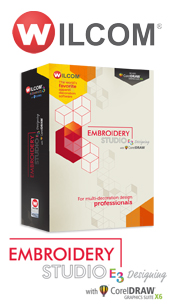 Wilcom Elements 3 - Wilcom and Corel are pleased to announce our latest product suite Wilcom Elements 3. It's a whole eco system of products to mix and match to suit your business.
It's faster, more intuitive to use, packed with new features and includes some powerful new algorithms for even greater stitch quality and graphics to stitch conversion.
Wilcom Elements 3 is our strongest release yet, with significant improvements in usability, quality as well as new creative and productivity based features. The new modular product models provide flexible and affordable options for all decorated apparel businesses.

As said by all embroiderers during the official presentation of Embroidery Office 11, this powerful software has no equal. EO11 is the easiest to learn software of the market, and the most productive. It has more tools than any other application, which are perfectly integrated in its impeccable interface. Awesome designs are created in a fraction of time, and working with EO11 is a true pleasure…
Professional Software for Embroidery Design, Laser Cutting and Laser Engraving Industries
The ApS-Ethos suite of Embroidery and Cutting software has been in development for over 21 years, when CadCam Technology Ltd embarked upon the first of many innovative products designed for the Textiles industry. During this time our aim has been to create a range of software that is easy to use, yet extremely powerful.
The flexibility of the embroidery software enables it to be tailored to suit the individual needs of a company. Distributed worldwide, the ApS-Ethos embroidery software has and will continue to be a market leader.
EOS 3 includes over 200 new and redesigned features
and functions with new, customizable interface and menus
for the most powerful digitizing and editing available.
PE-DESIGN® NEXT takes digitizing and embroidery to the next level of creativity with exceptional new features. A user-friendly graphical interface, similar to many software programs on the market today, makes it easy to locate and select the dynamic functions of this software. In addition, the quick access toolbar allows you to customize your favorite operations so they are only a quick click away. Several "Start Your Own Business" functions have been added such as the new PE-DESIGN® NEXT Link Function that allows up to four PR-1000 and upgraded PR-650 machines to be linked from a single computer with queue functionality. Other time savers are the lettering and design template feature, which provide the ability to create perfectly sized logos with lettering and designs, and the new Name Drop Template feature that can be used to create different names with the same design and layout. Many other exciting features such as enhanced lettering, more stitch and pattern variations and more built-in fonts
What's new in Version 14
A gorgeous combination of brains and beauty,Version 14 has plenty of compelling reasons for you to update. It is powerful, elegant and easy to use, and has great new features that help you maximize efficiency with minimal effort.
Complete with all of the features included in the EditorPlus package plus much more:
Use the included artwork files or scan and import artwork to digitize on-screen. The easy to use manual digitizing and shape tools may be used alone or in combination with the automatic digitizing tools. Add lettering for a personal touch to any project using any of the 60 included professionally digitized fonts. Create lettering from the TrueType® fonts already installed on your computer. Specialty fills; automatic color blending and gradient fills take embroidery designs to a new level. Create stunning Blackwork with fills and outlines. The Pattern Stamp tools adds texture and dimension to your embroidery. Create new pattern fills and monogram borders for more creative flexibility. The exclusive Advanced Appliqué tool generates complex appliqué designs with ease. Select from traditional satin and blanket stitch appliqué or experiment with hundreds of decorative stitch options. For large designs that require multiple hoopings, the hoop splitting feature makes it a breeze. The software will create registration marks automatically to simplify the multi-hooping process.
5D™ PROFESSIONAL – The ultimate embroidery software system. It provides unlimited possibilities to design your ideas!
The HUSQVARNA VIKING® 5D™ PROFESSIONAL package includes eleven software modules: 5D™ Embroidery Extra, 5D™ Organizer, 5D™ Vision, 5D™ Stitch Editor, 5D™ Design Aligner, 5D™ Sketch, 5D™ Cross Stitcher and 5D™ Family Tree plus three special modules available only in 5D™ Professional: 5D™ Design Creator, 5D™ PortraitStitch and 5D™ Font Digitizing. The package also includes machine accessory modules 5D™ Disk Manager USB, 5D™ d-Card Reader/Writer and 5D™ Reader/Writer (but no reader/writer hardware).